The answer is…
Everybody is different. It could be only for a few months for some people become completely symptoms and discomfort free but could be years for some to become so.
What makes it difference?
We are all born with strengths and weaknesses. In my practice, I provide an Iridology assessment in order for me to know which organs, systems should be supported first, inherited weaknesses, and to learn potential emotional blockages through associated chakras. And this iris analysis can also tell me how toxic the colon is whether the client is constipated or NOT, or having digestive problems or NOT.
Our colon is the most toxic part of the body and it is from the sluggish elimination system, toxic food and water, medications, high physical and emotional stress, dysbiosis (bacterial imbalance), environmental pollution, and MORE. Symptoms like bloating, constipation/diarrhea, eczema, asthma, ADD/ADHD, acne, food allergies/intolerance, nutritional deficiencies, mood swings, recurrent infections, SIBO (Small Intestinal Bacterial Overgrowth), eating disorders, learning disabilities, etc. are signs that the gut requires healing and sealing. (-> How to and GAPS diet)
I was born with some weaknesses in the immune system as I could tell from my family health history – my grandparents had asthma, eczema, and allergies, and so do my parents. On top of this, in my teenage years, I abused my body with daily laxatives which I took 3 times more than recommended for years, along with hydrocortisone cream as my daily moisturizer. When I decided to cleanse my body in 2012 and be free from anything that is toxic to my body, I had massive flare-ups which we call a "healing crisis".
Information you can find about a healing crisis tells you that it lasts for a few days, is "temporary", and "worst comes before better". But it wasn't my case. Once I got flare-ups, they lasted for months one after another. I almost felt like it was NOT temporary.
Between 2012 and 2016 was the hardest time of my healing. Long downtimes and a bit and brief up times. You can imagine that for hours I spent searching for "the quick solutions" during this time.
(->MORE healing stories)
After 2016, cycles of the healing crisis started to change – shorter and less frequent. It really took me for good 5 years to finally feel the toxic levels in my body are much less and my gut is working the way it's supposed to.
I got to be honest. Unfortunately, I won't be able to say "My gut is HEALED!".
Why?
I still have small breakouts here and there. Depends on how much sleep I get, how much stress I get, how much exercise I have done, what food I eat, etc. We must know that our body is different every day. Eating french fries didn't cause any symptoms one day doesn't mean that your body can handle it every time, especially for people with some weaknesses.
I believe healing is an ongoing process for life. Taking care of our body according to the situation, and the feelings that are part of our intuition never ends.
So for now, I can say a few things regarding this topic.
Be patient.

The timing is always right. When it's time, your body will know. Meantime, your job is to support the body nutritionally, emotionally, and environmentally.
Trust your body.

Your body knows what to do and working so hard to balance and work at its best. It's your time to connect and look within.
Know that you're on the right path.

The moment you decided to commit to your health and wellness, the healing has already begun. Learn to enjoy the ride.
And please know that you are ALWAYS supported by anyone you trust and feel safe with. Reach out to them when started to feel lost, exhausted, and overwhelmed.
Our universe is always there for us.
Lastly, I'd like to share my sort of "Before/After" picture for the first time. I was very ashamed of my skin and the way I looked with inflamed skin from head to toe. For this reason, I even stopped looking in the mirror for a long time and never took selfies till I thought my skin was ready.
But one day, I decided to record my journey to inspire people who are in the same shoes as mine. So here it is. While this still gives me heart aches when I look at it, I'm so grateful for my body.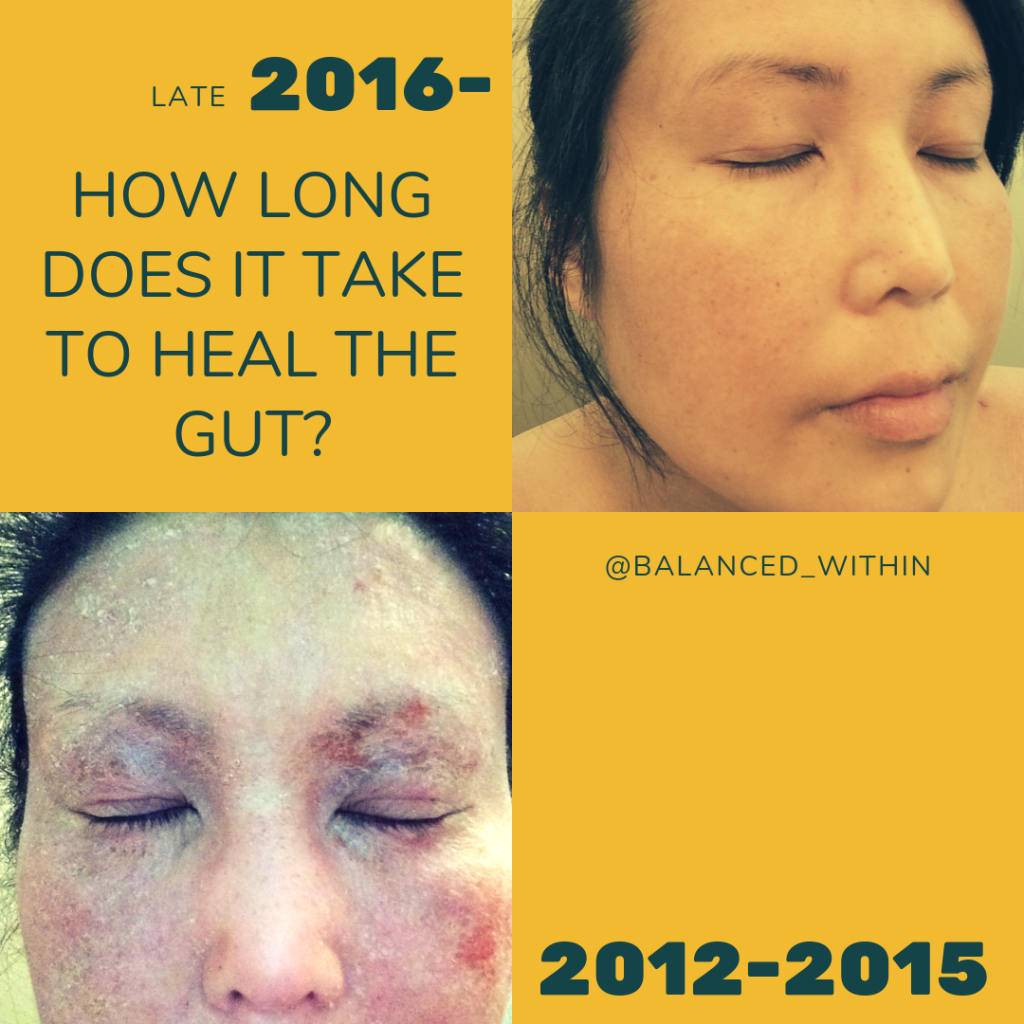 I was frustrated, hated myself, and depressed for years. Then I learned that self-love was the key to this healing journey. I have been learning a lot more about myself and my family ever since.
Our body never fails us to return as long as we never fail to nurture it.
Would you choose temporary drugs to "cure" symptoms OR the healing to a much more promised long ride for life?