You need to add a widget, row, or prebuilt layout before you'll see anything here. 🙂
These cookies are easy and playful! But be careful with the flour. I tried this recipe with a bag of "Paleo Blend" flour which contains almond flour, coconut flour, tapioca flour and arrowroot starch. When you are having reactions to starches, be careful with what flour you use.
At one time, I used 1/2 cup of monk fruit and 1/2 cup of organic honey, they were also delicious but what's important when alternating the ingredients is to carefully feel the dough, when you are mixing in milk.
You can eat them as an afternoon or late-night snack. Guilt-free!

INGREDIENTS:
(about 16-20 balls)
1/2 cup Grass-fed butter (room temperature)
3/4 cup Monkfruit (sugar alternatives)
1/2 tsp  Vanilla extract
1/2 tsp Coconut extract
1 1/4 cup Keto/Paleo friendly flour (i.e. Almond flour)
1/2 tsp Baking soda
1/4 tsp Sea salt
1 1/3 cup Desiccated coconut (fine)
4 TBS Coconut milk
INSTRUCTIONS:
Preheat the oven to 350F. Lay a parchment paper on a baking pan.
In a bowl, mix butter and monkfrut until mixed well. (the colour becomes whiter)
Add all the ingredients in the bowl other than coconut milk.
Mix 1 TBS coconut milk at a time into a thick cookie dough.
When the dough can be easily rolled into balls (not too hard, no too soft/sticky), they are ready.
Roll the cookie dough into balls (aim for 16-20) and place them evenly on a baking pan.
Bake for 12 mins. The edge will be firm and set but they will still be soft in the middle.
Let them firm up and cool directly on the pan.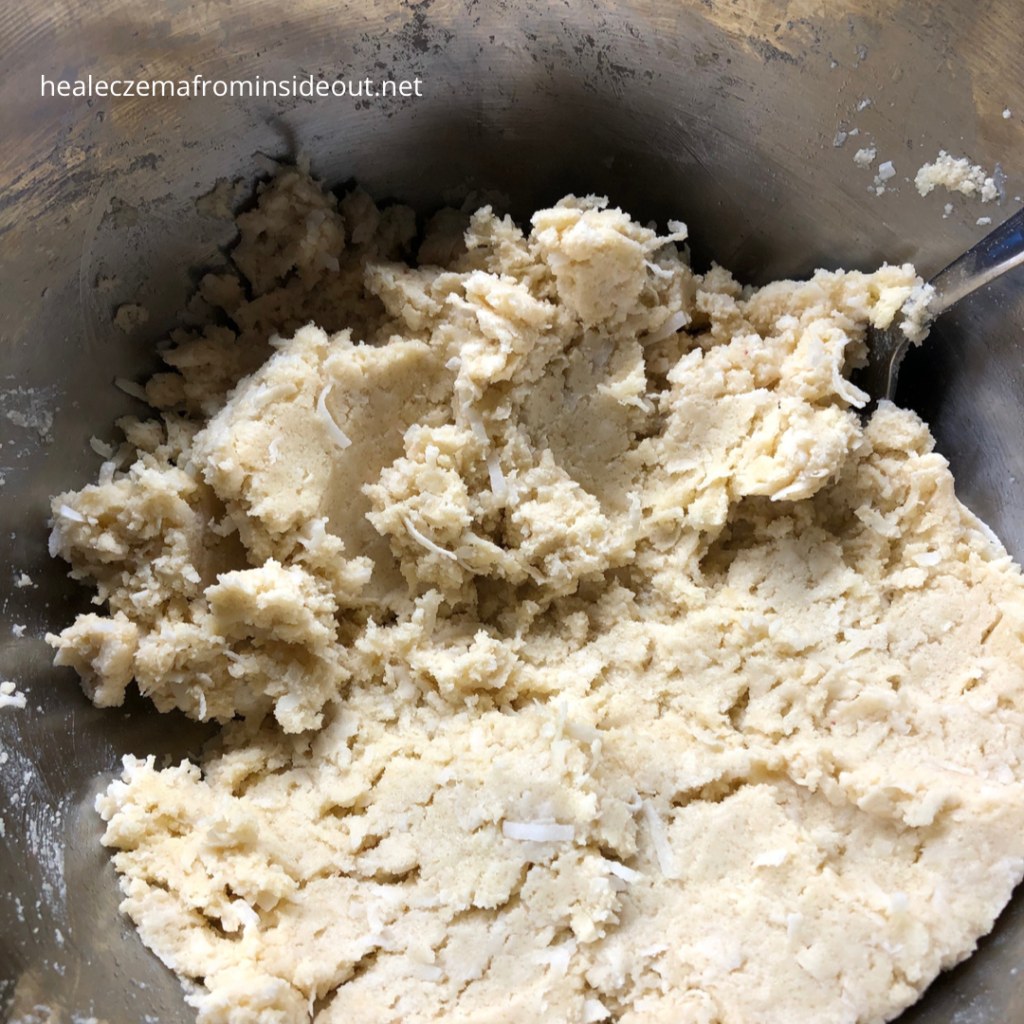 Note:
If you decided to use coconut oil instead of grass-fed butter, please note that the dough will be softer. The cookies will be thinner and flatter rather than "balls". They taste still delicious!
If you don't have coconut extract, just use vanilla extract.
I've tried this with Kombucha (Pink lady apple flavour) instead of milk. It was also delicious!