Have you become sicker when you started eating more vegetables?
Have you gotten old symptoms back when you started a healing protocol such as detox program?
If you have, I hope you didn't go back to your old eating habit but tried to be patient with the body's reaction.
Elimination Organs
While we are eating fries, bread, pasta with little vegetables, and drinking pops, and other sugary drinks over clean water, our body's metabolism slows down. Although our body is always healing 24/7, it needs nutrients such as proteins, vitamins, and minerals from foods that we are eating.
There are five elimination organs that are involved in getting rid of toxins from the body. They are lungs, kidneys, large intestine, lymphatic system, and skin.
If we don't assimilate nutrients from the food we eat, toxins won't get out of the body through the organs I mentioned above. Even worse, the liver may not be able to properly convert the toxic substances into less toxic. Toxic substances first have to be converted to less toxic in order to excreted from elimination organs. Otherwise, those elimination organs will be damaged.
Nutrients are necessary not just for the energy production but for the other metabolic cycle. Our organs are digesting food as well as helping the detoxification process.
If there aren't nutrients for digestion, digestive system slows down. Undigested food then becomes toxic to the body. If there aren't nutrients for detoxification, toxins will circulate in the blood then store in the organs and tissues that are less functional.
It is the vicious cycle without nutrients.
Healing Crisis
When our body starts to heal with right nutrients, toxins stored in the organs and tissues, they will be dumped into the bloodstream. Then we hope that all elimination organs are working optimally in order to eliminate the toxins carried by the blood. If they are not working at its best, toxins may keep circulating in the bloodstream and then eventually stored again.
This is what happens to the body when your diet goes from no nutrients to full of nutrients. Or when you start detoxifying the body with herbs and nutritional supplements.
Especially when you go raw or do a juice cleanse, a lot of toxins will be dumped into the bloodstream and most of the time, elimination organs aren't ready for that much toxins to be able to handle at once. As toxins circulate all over the body, we get sick and have old symptoms back.
We call this "healing crisis".
Everybody who tries to cleanse should be informed this to avoid going back to medications because this process is absolutely necessary for healing.
Although healing crisis happens during the healing process, we can minimize the degree of it by utilizing homeopathy. But usually, people figure the best pace and amount to go on healing procedure for themselves by trial and error.
Make sure you reduce the amount of the food (raw, fresh juice, vegetables, etc) you are eating or supplements you are taking when started having a healing crisis. If vegetables cause gas and bloating, start with small amount of fermented food and supplemental probiotics to balance bacteria.
Besides going slow with the amount, try herbs to help support elimination organs so that toxins will optimally be eliminated when they are released from organs and tissues.
If necessary, please advice your practitioner before you get really sick that you can't handle.
Hering's Law of Cure
The nineteenth-century European homeopathic physician, Constantine Hering expressed the principles of healing, "All cure starts from within out, from the head down, and in the reverse order as the symptoms appeared."
When we start searching for what's best for healing by using our head, healing has already begun. In other words, healthy mind heals rest of the body.
If you see your skin is irritated, you always have to work on your internal toxicity. Nothing that topical cream could "heal" your skin unless that's purely external injury.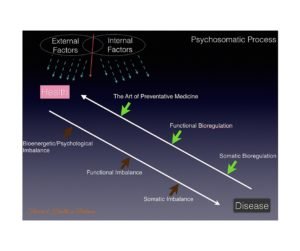 Do you give up or be patient?
I have experienced many many healing crisis which weren't easy physically nor emotionally. Generally speaking, healing crisis lasts for few days. Mine lasted for months. I didn't even know when it was over as multiple healing crisis occurred one after another.
But I didn't give up. I believed my body's ability to heal itself.
Someone once told me they couldn't eat any fermented food nor cruciferous vegetables because they hurt her stomach. When she eats KFC, she doesn't get sick.
This is a typical example that her body is storing toxins rather than "eliminating" them.
Sometimes people react to vegetables and fruits because of the chemicals sprayed on them. Once they switch to organic from conventional vegetables and fruits, symptoms get better. So make sure you eat organic.
Healing takes time. Nothing heals overnight. Trust the process and be patient. You are healing as long as you are doing things that help the body do its job.